World Prematurity Day 2021: Advocating for financial relief for parents of babies born too soon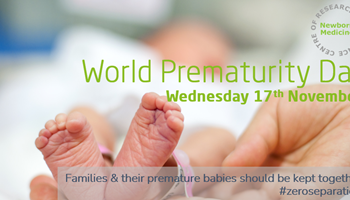 The CRE in Newborn Medicine used this years World Prematurity Day to continue to raise awareness to their work with Miracle Babies Foundation and the University of Melbourne advocating for change to the Australian paid parental leave entitlements for parents of babies born early or sick.
In 2020, the researchers from the CRE in Newborn Medicine surveyed parents of sick a or preterm babies to understand their experience of the financial impact of having a baby or babies needing to be hospitalised for longer than expected after being born. The study found that 75% of parents experience significant financial hardship. 
"We need to support families to be with their premature or sick babies during the first year of development. Current parental leave legislation in Australia does not take into account that many parents of premature or sick babies may spend weeks or months with their baby in hospital. This means that some parents are having to go back to work whilst their baby is still in hospital, take leave without pay or are forced to resign from their jobs. This has huge financial impact on families who are already under increased stress," says Associate Professor Alicia Spittle from the Centre of Research Excellence for Newborn Medicine at the Murdoch Children's Research Institute.
The CRE Newborn medicine, along with Miracle Babies Foundation and the University of Melbourne are asking the Australian Government to review current legislation on paid parental leave, taking into consideration family needs for premature and sick babies and work to improve paid parental leave for NICU/SCN parents. We would like to see primary carers access to one week of extra Parental Leave Pay for every week their baby is in hospital (for babies admitted to hospital for >two weeks), up to a maximum of 14 weeks.
For fathers and partners of these babies, we recommend an additional two weeks of extra Dad and Partner Pay.
Proudly in partnership with