Resources for Download
Notice for Public Consultation: Draft Guideline for Growth, Health and Developmental Follow-up for Children Born Very Preterm
Organisations and members of the public with an interest in follow-up in infants born very preterm are invited to submit their comments and suggestions on the draft guideline to help inform and contribute to its development.
Deadline extended:
Submissions close 13th of October 2023
The draft guideline can be viewed and downloaded here.
The feedback form can be downloaded here.
The feedback form can be submitted at here.
About the Guideline:
The Australian Clinical Guideline for Growth, Health and Developmental Follow-up of Infants Born Very Preterm seeks to present the best available, current scientific evidence to assist decision making for the provision of follow-up services to infants born very preterm in Australia.
The guideline is being produced by the Newborn Medicine Centre for Research Excellence, Murdoch Children's Research Institute.
Approval for this draft guideline is being sought from the National Health and Medical Research Council (NHMRC) under Section 14A of the National Health and Medical Research Council Act 1992. The approval process requires a public consultation period (legislated minimum of 30 days) to allow relevant authorities and stakeholders the opportunity to provide feedback about the draft guideline, thereby contributing to its development.
Further Information can be viewed at:
Parent Mental Health & Wellbeing
At the Centre of Research Excellence in Newborn Medicine, our team of health professionals, researchers, and parents have recently developed an information sheet on Parent Mental Health and Wellbeing after a baby's admission to a neonatal unit.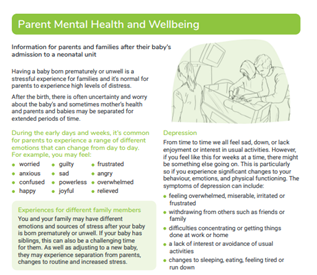 This resource aims to:
Increase parents' understanding and awareness of their own mental health experiences
Identify things parents can do to support their mental health and wellbeing
Increase parents' awareness of the different types of help and support that is available both in the hospital and community, and
Assist parents in identifying when to ask for professional support
You can download this resource here.
Covid-19 and Preterm Children
It is also important at this time that parents are seeking information from evidence based resources to guide their understanding of COVID-19 and their decision making for their child. The CRE in Newborn Medicine have developed a short factsheet to assist parents of preterm children with this.
You can download it here. We hope this is of some benefit to parents at this time.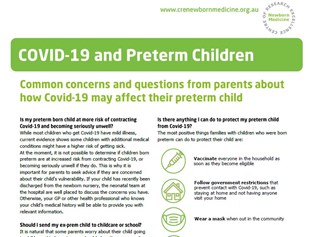 Additionally, experts from the Melbourne Children's Campus which includes the Royal Children Hospital (RCH) and Murdoch Children's Research Institute held a Facebook Live event recently that answered many questions sent in from parents in regards to COVID-19, the Delta strain and vaccination.
You can view the recording of this event here. 
And finally, the hugely popular RCH Kids Health Info Podcast had a discussion with paediatrician and immunisation expert Dr Margie Danchin about Children and COVID-19 vaccines.
You can listen this this here. 
Telehealth Appointment Guides for Families with Infants & Young Children

Do you have a telehealth video appointment scheduled for your child? Or are you a health professional who uses telehealth in your service?
The CRE in Newborn Medicine, together with the University of Melbourne have developed two handouts to support families and health professionals using Telehealth. Designed for infancy and early childhood, the handouts provide instructions on getting ready and connecting to telehealth. For health professionals, contact details or additional instructions can be provided to families by utilising the modifiable section of the handout.
You can download the age appropriate handouts by clicking on the buttons below. We encourage you to pass these handouts on to your peers or other health professionals who may find them beneficial.
Filming a baby's general movements at home

The CRE in Newborn Medicine team have a developed two handouts to guide families to film their baby's general movements at home. There is a detailed guide which also includes information for health professionals on transfer of data and we have also created a simple checklist with infographics as a quick guide for families.
Both handouts have been developed with our consumer advisory group and with health professional input from around the globe.
Please feel free to share with any family, friends, colleagues and patients who may find this beneficial.
You can download both resources here:
Full Guide
Full Guide - Te Reo Maori Translation
Evidence Based Resources for Families about COVID-19
Navigating the Resources regarding Covid-19 can be overwhelming for families. Especially those families who have had a sick or preterm child.
Researchers from the CRE in Newborn Medicine have produced a list of links to evidence-based resources for families who are understandably worried and seeking information.
Proudly in partnership with