Webinars and Short Cut Videos
2020 Newborn Medicine Online Forum: Recordings now available!
Thank you to all who attended our 2020 Newborn Medicine Online Forum. It was a big success with lots of ideas flowing in about what you would like to see from us next year! In the meantime, please enjoy the recordings from this year's forum below.
You can view the full forum here or see below for individual presentations.
Forum Introduction
Origins of the CRE in Newborn Medicine
Helping Babies Breathe in the Delivery Room & Beyond
Life beyond the nursery - outcomes into adulthood
Understanding why developmental outcomes vary for children born very preterm
Lessons Learned from partnering with families
Q&A Session
Short Cut Video Series
Short Cut Video 1: Bronchopulmonary Dysplasia (BPD)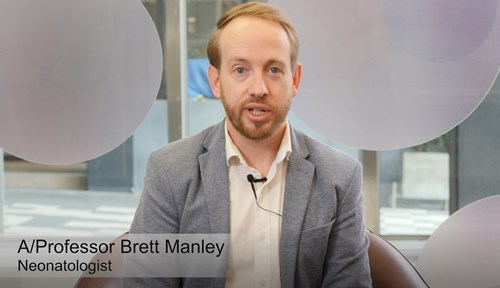 Extremely preterm babies are born before 28 weeks' of gestation (more than 3 months early). Bronchopulmonary Dysplasia or BPD is a chronic lung disease that affects the growth and development of extremely preterm babies' lungs. Despite improvements in medical treatments and technologies in the neonatal intensive care unit, BPD is still a big problem with around half of all babies born extremely preterm being diagnosed with BPD.
The Centre of Research Excellence in Newborn Medicine sat down with leading expert Associate Professor Brett Manley to ask some important questions about BPD for babies and families in the neonatal unit and beyond. Learn about the condition, its treatment, and some groundbreaking research that aims to reduce BPD and improve the health and developmental outcomes for extremely preterm babies.
If you have any feedback, questions or ideas for topics our Short Cut Video Series, please email us at crenewbornmedicine@mcri.edu.au 
Prematurity Road Map Series
The CRE in Newborn Medicine have held several Facebook Live sessions with our investigators presenting information on various topics within Newborn Medicine.
These sessions can be viewed through the MCRI Facebook page at the following links:
Our team are busy planning the next Facebook Live session in the Prematurity Road Map Series.
If you have a topic you would like to see discussed by our team, send us an email at crenewbornmedicine@mcri.edu.au we would love to hear from you.
Proudly in partnership with