Research News: Survival rates increase for extreme premmies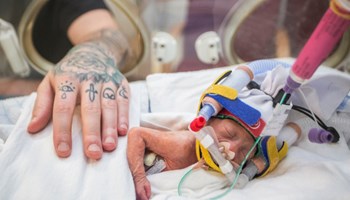 The world's largest and longest running study of babies born extremely premature found survival
rates have increased by nearly 20 per cent since the early 1990s.
In a paper published in BMJ Open, evidence from the Women's-led Victorian Infant Collaborative Study (VICS) also found that extremely premature babies stayed on breathing support for three times as long as they did in the early 1990s – an outcome of the new ways in which clinicians are now helping babies breathe.
Over the same period, prevalence of the brain injury cystic periventricular leukomalacia – often resulting in
childhood disability – decreased from 6 per cent to 1 per cent.
"VICS data from the past 25 years has allowed us to look at how, over time, care has improved for Victoria's
youngest and most vulnerable patients – with survival rates rising from 68 per cent in 1992 to 87 per cent in 2017," said Professor Jeanie Cheong, Lead Researcher who has been involved in VICS since 2006 and Director of the Centre of Research Excellence in Newborn Medicine. 
"The introductions of technology such as nasal high flow – a noninvasive breathing treatment for babies – and the associated research by clinicians at the Women's, mark major steps forward in neonatal care. It's the new technologies and research that give our clinicians the confidence to give these babies a fighting chance in the delivery room." Prior to the introduction of effective assisted ventilation in neonatal intensive care nurseries in the 1970s, very few babies born extremely premature survived.
VICS has been following cohorts of all babies born either below 1000g or before 28 weeks' gestational age
in the state of Victoria from the 1970s, 1980s, 1990s, and 2000s into school-age, and in some cases, into adulthood. More than 1,200 participants continue to be involved in the study.
**This article originally appeared in The 2020 Women's Research Report.
Proudly in partnership with