Navigate the education system with your preterm child a little easier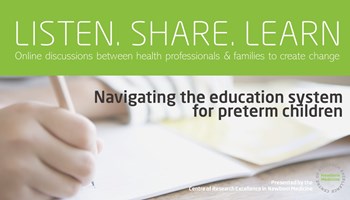 The Centre for Research Excellence in Newborn Medicine has held the second in our 'Listen.Share.Learn' online discussion series on Wednesday 11th August, this time providing parents with the knowledge and tools to navigate the education system with their preterm child.
Moderated by Professor Peter Anderson, a Paediatric Neuropsychologist and Chief Investigator for the CRE in Newborn Medicine, the event bought together a panel of health professionals, service providers and parents to discuss the challenges families of preterm children may face when navigating the education system, to answer questions from the audience and to speak about the resources available to families to support the education of their premature child from the online audience.
The panel of experts included, a Developmental-behavioural paediatrician, a Neuropsychologist, a Speech pathologist from the Victoria Education Department, an Educational-Developmental Psychologist, as well as parents sharing their lived experiences.
The session has had overwhelmingly positive feedback from the families and health professionals that attended the live and interactive session.
A recording is now available to view the session on the CRE in Newborn Medicine website here. 
If you have any questions regarding this event, please email us at crenewbornmedicine@mcri.edu.au
Proudly in partnership with