Help us advocate for change to paid parental leave for parents of babies born preterm or sick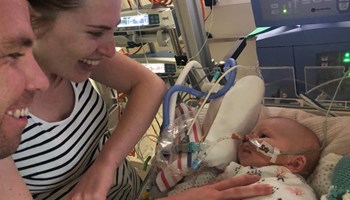 Approximately 6% of all Australian babies are admitted to a Neonatal Intensive Care Unit (NICU) or Special Care Nursery (SCN) after birth for an extended period of over 2 weeks, causing both emotional and financial stress for parents, with implications for long-term health and economic outcomes for families and the community.
Despite spending weeks and sometimes months in hospital, parents whose baby is admitted to NICU or SCN for an extended period are not currently entitled to any extra Paid Parental Leave (PPL) or Dad and Partner Pay (DaPP) under the Australian PPL Act of 2010. This is of great concern as throughout hospitalisation and early parenthood, these parents are at increased risk of anxiety, depression, post-traumatic stress, and attachment difficulties. These emotional and psychological impacts are fuelled by factors such as parents' separation from, and ongoing health concerns for, their babies, as well as financial stress. 
The Centre for Research Excellence in Newborn Medicine and the University of Melbourne are calling on the Australian Government to reform the PPL and DaPP policy to support parents who have a baby hospitalised for two weeks or more. We propose that primary carers receive one week of extra paid parental leave for every week a baby is in hospital beyond two weeks, with a maximum of 14 weeks extra pay. For fathers and partners, we recommend an additional two weeks of extra Dad and Partner Pay.
WE NEED YOUR HELP
We've been working hard to advocate for improvements to the Australian Government PPL and DaPP policy for parents of preterm or sick babies, but we need your help to continue this important work.
CONTACT YOUR FEDERAL MP
There are currently 151 members of the House of Representatives, each representing one geographic area of Australia. Members are elected for a 3-year term and when in parliament take part in debate on proposed laws and public policy, representing the views of the people in their electorate.
We encourage you to reach out to your local MP, informing them of this important issue and need for reform. Below is an example message you may like to use to advocate for change:
I write to you to show my support for the Centre in Research Excellence in Newborn Medicine, Miracle Babies and The University of Melbourne's campaign to extend paid parental leave for parents of preterm or sick babies.
These babies can spend anywhere from 2 weeks to 4 months or more in a Neonatal Intensive Care Unit (NICU) or Special Care Nursery (SCN) before they are able to safely come home. In addition to the significant stress and emotional impact of their baby's hospitalisation,  parents are financially impacted by needing to stop working earlier than planned. Missing out on income during the hospitalisation of a preterm or sick baby and less time available at home following discharge places tremendous financial strain on families and many mothers at risk of leaving the workforce much earlier than anticipated to care for their preterm or sick baby.
An improved legislation to support these families with an additional paid special leave entitlement for the hospital period will help to reduce separation between parents and their babies', assist with more women returning to the workforce when they are ready, and facilitate improvements in both child and parent health outcomes.
Find the name and contact details of your MP by entering your postcode here
Proudly in partnership with