Help advocate for changes to paid parental leave for NICU parents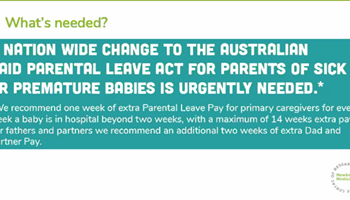 Research presented by Professor Alicia Spittle at the Cool Topics in Neonatology Conference shows the financial and mental health impacts that are felt by parents when their baby is born sick or too soon and in hospital. 
You can help.
Cut and paste the following message and send to your local member. 
I am writing to you to show my support for extending paid parental leave for families with a premature or sick newborn.
These babies may spend anywhere from 2 weeks to 4 months or more in NICU or SCN before they are able to safely come home, effectively resulting in parents financially impacted by needing to stop working earlier than planned. Missing out on income during the birth of a premature baby and less time available at home following discharge places tremendous financial strain on families and many mothers at risk of leaving the workforce much earlier than anticipated to care for their premature or sick baby.
An improved legislation to support these families with an additional special leave entitlement for the hospital period will help to reduce separation and also assist with more women returning to the workforce when they are ready.
Find the name and contact details of your member here. 
Proudly in partnership with