What is the CRE in Newborn Medicine Funding in 2020?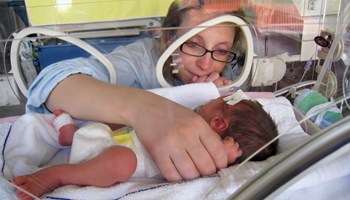 In 2020, the CRE in Newborn Medicine is continuing our commitment to fund innovative projects to improve the health of all newborn babies and their families.
One such project is the Baby-Ducc 2 (Baby-Directed Umbilical Cord Clamping) Study, being led by Shiraz Badurdeen, a Neonatal Research Fellow at The Womens' and PhD candidate at the Ritchie Centre, Monash University. In partnership with Kenyan researchers, the Baby-DUCC2 study will take place in a Kenyan regional hospital, where typically many babies need help breathing after birth and where treatment options are limited. The research team will study the feasibility of helping babies breathe before cutting the umbilical cord as a way to protect the baby's brain from low oxygen levels after birth. Compared to current practice, where the cord is cut first to move the baby to a resuscitation table, it is hoped that this simple change in resuscitation sequence will maintain the baby's lifeline of oxygen from the placenta while allowing midwives to start helping babies breathe more quickly.
Speaking about having secured funding from the CRE in Newborn Medicine to carry out this study, Shiraz said "This funding enables us to initiate a programme of collaborative research with our Kenyan colleagues in evaluating a simple but promising way of reducing brain injury at birth. The funding enables us to support a small research team at the study site, and provide staff training and equipment.
This study builds on previously CRE-funded work in Melbourne. We hope to show that the BabyDUCC approach can be performed by a single birth attendant with no significant additional costs, and helps to reduce the time taken for babies to start breathing.
Another project funded by the CRE in Newborn Medicine this year, will address another difficulty our clinicians and researchers see daily in the neonatal unit. Paid parental leave for parents of sick babies urgently needs change, and the CRE recognises the importance of supporting research to advocate for this change. Currently, there is no extra provision for paid parental leave for parents whose babies are sick and need hospital treatment for weeks to months. This means that by the time their baby goes home, parents have little to no leave entitlements left to enable them to spend the critical weeks at home with their newborn babies. In a study led by Prof Alicia Spittle, and co-funded by the Melbourne Disability Institute at the University of Melbourne, the CRE team will conduct a review on what parents of babies born sick or preterm want regarding paid parental leave. Working with our key stakeholders, the CRE will lobby the government to change the current paid parental leave policy for parents of babies born sick or too soon.
CRE in Newborn Medicine Director, Prof Jeanie Cheong is very impressed by the quality of the projects supported by the CRE this year, saying "These projects directly address knowledge gaps in research and health care, and will improve the lives of newborn babies and their families. And this is the primary objective of the CRE in Newborn Medicine."
The CRE in Newborn Medicine welcomes collaboration with those born preterm and their family, newborn community groups, as well as other health professionals, clinicians and researchers within the field of newborn medicine. To request more information on any of these projects featured in this story or to find out more information about our Consumer Advisory Group please email crenewbornmedicine@mcri.edu.au or contact the relevant researcher via the email address listed on our projects page.
Proudly in partnership with