The ethical considerations of seeking consent for delivery room trials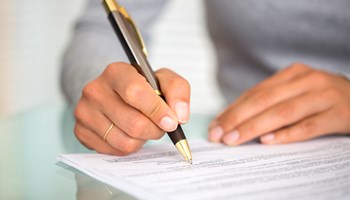 Delivery room trials face uniquely challenging environments for seeking consent from parents prior to research, explains CRE in Newborn Medicine Chief Investigator, Consultant Neonatologist Associate Professor Louise Owen, in an editorial published in the latest issue of the Fetal & Neonatal edition of Archives of Disease in Childhood.
When parents are facing the impending birth of a sick or preterm baby, labour, parental distress, and limited time can mean that families are unable to be approached for consent before birth. This results in their exclusion from research studies, and limits inclusion to families where such factors do not apply. These limitations can result in infants recruited to delivery room studies not being representative of the whole population. The editorial reviewed a secondary analysis of the Heat-Loss Prevention (HeLP) Trial where parental consent could be sought before or after birth and study enrolment, and where the mode of consent was shown to influence the range of participants recruited. Despite not ultimately affecting the results of this trial, noted by Louise is the possibility that such differences could influence trial outcomes.
"If we have no opportunity to seek consent from mothers who are unwell, or who present in labour or present shortly before delivering, we risk excluding babies who are most likely to have poor outcomes, and who potentially have the most to gain from the research. We risk only enrolling babies more likely to have good outcomes, thereby producing biased study results" said Louise.
Also detailed in the editorial were the ethical considerations of using alternative consent types that include seeking consent after the research intervention has taken place in a delivery room trial, known as Research Without Prior Consent (RWPC). RWPC mitigates the need for researchers to always approach parents prior to birth at a time when doing so may be inappropriate, stressful, or not possible. RWPC consequently broadens the range of participants enrolled but raises complex ethical issues. The process is defined and applied differently around the world and there are limited data on the acceptability of RWPC to parents. The available data suggests parents are generally accepting of the process, although as the editorial highlights, parents need to be involved at the study design stage, when delivery room research is being planned, to ensure that acceptable consent processes are employed. In addition, guidance and support from regulatory and funding bodies are needed to support alternative methods of research consent.
"Ultimately.." says Louise, "newborn researchers want to be able to run effective and appropriate research studies that balance the need to generate new evidence, whilst respecting the child's and family's right to determine whether they participate in that research".
You can read the full article here
Proudly in partnership with