Student Spotlight: Simonne Collins, PhD Candidate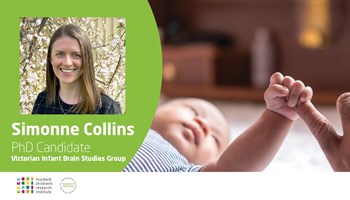 Passionate about all children being able to achieve their full academic potential, CRE in Newborn Medicine PhD Candidate, Simonne Collins is studying the factors that influence the decisions that parents of children born very preterm make in regards to their child's schooling. Knowing that such decisions can influence a child's academic achievement, Simonne wants to understand whether these decisions are unique to parents of children born very preterm, with the aim of this knowledge being able to be used to support parents to navigate school-related decision making in a manner that is sensitive to the needs of the very preterm population.
Simonne recently met with our Consumer Advisory Group (CAG) to discuss how they felt about her study and ask for their feedback on the questions she will be asking of parents as part of her project. She found the experience invaluable. Simonne said "Talking to parents about their experiences related to their child's schooling highlighted to me that as researchers we can have good ideas but we really need consumer engagement to add depth t the focus of our work".
Simonne is now incorporating all the CAG's insights into her project and is looking forward to meeting with the group again to see if her changes have reflected their vision.
Now in the third year of her PhD, we caught up with Simonne and asked her to tell us a little more about herself and her work. 
What did you study and what is your PhD project? 
I have a Bachelor of Arts (Honours), with a major in Psychology and I am currently completing a PhD in child neuropsychology. My PhD is investigating the development of children's maths ability, and how this might differ for children born very preterm compared to their full term born peers. I believe in taking a holistic approach to understand children's academic achievement, by exploring the relationship with the developing brain, cognitive skills and the environment, including the role of parents.   
Why does this area of research interest you?   
Education is so important and universal access is listed as one of the United Nations Millennium Development Goals. In Australia, we are fortunate that children are able to access primary and secondary education. However, some children are born at risk for learning difficulties and can slip through the cracks, making it challenging for them to achieve their potential. I feel passionately that all children should be given the opportunity to reach their full academic potential and through understanding why some children are born at risk for learning difficulties, we can begin to develop targeted interventions and support strategies.  
What do you hope to do in the future?    
I hope to continue my research, building comprehensive, holistic profiles of learning ability and disability in children born at risk for learning difficulties. I also hope to work alongside education professionals, policy makers, families and individuals who were born at risk to improve the learning experience and opportunities for these children, with the ultimate goal of improving their adult wellbeing and economic outcomes.  
What do you enjoy about being part of the CRE? 
The CRE of Newborn Medicine is a wonderful team to learn from. It's a very collaborative and supportive environment, meaning as a student you benefit from the experience of others outside of your supervision team, enriching your research training. The CRE is very accomplished and I find a lot of inspiration talking to members and hearing about their projects. 
Proudly in partnership with