Student Spotlight: Shiraz Badurdeen, PhD Candidate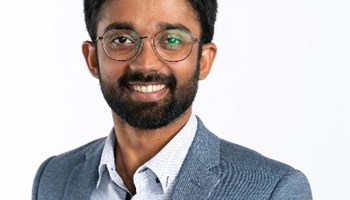 Shiraz is a Neonatal Research Fellow at The Womens' and PhD candidate through the Ritchie Centre, Monash University. He is the Co-Principal investigator for the Baby-DUCC (Baby-Directed Umbilical Cord Clamping) Study. Shiraz successfully obtained funding from the CRE in Newborn Medicine to launch the Cerebral Haemodynamics and Oxygenation with Physiologically-based cord clamping (CHOP) randomised trial, embedded within the BabyDUCC study. These studies aim to help understand how best to protect the brain during resuscitation of full-term and near-term infants. The studies focus on resuscitation with the infant still connected to the mother through the umbilical cord, and on oxygen use when helping infants breathe. Support from the CRE has enabled novel monitoring of the brain's exposure oxygen and blood pressure in this context.
Shiraz's work has implications for newborn resuscitation around the world, particularly in low-resource settings where the burden of birth asphyxia is high. Plans for a feasibility study with his collaborators at the Kenya Medical Research Institute - Wellcome Trust Research Programme are currently on pause due to the Covid-19 pandemic. It is hoped that the BabyDUCC approach can be performed by a single birth attendant with no significant additional costs and will help the protect newborn's brain from low oxygen levels after birth.
How did you end up being a PhD student in the CRE in Newborn Medicine?
I am a local to many parts of the world, but during my time as a neonatal advanced trainee in the UK I was encouraged by my mentors to take up a fellowship at the Royal Women's hospital. My interests in neonatology, neuroscience and global child health crystallised into my current PhD project supervised by Prof Peter Davis and Prof Stuart Hooper.
What do you like about working in the CRE in Newborn Medicine team?
I enjoy being part of the CRE because it brings together community of cooperative researchers with varied interests working towards improving the health outcomes of newborns and their families. Grants from the CRE allow us the freedom to ask novel questions and generate early stage data to support external funding applications. The CRE has been extremely supportive of training its scholars in developing research skills, both through informal conversations and formal teaching and seminars.
What do you hope to do in the future?
I hope to continue to work towards improving the outcomes of newborns at home and around the world, through contributions in science and through collaborative clinical studies. I look forward to working with, and contributing towards, the CRE's important role in the future. 
Proudly in partnership with