Post Doc Profile: Dr Amanda Kwong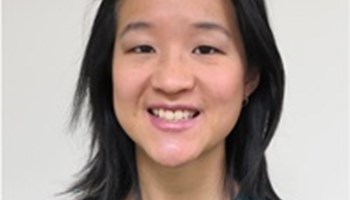 Tell us about yourself and the work that you do
My PhD studied the use of a parent-operated smartphone app, Baby Moves, among babies who were born extremely premature within the Victorian Infant Collaborative 2016/2017 cohort. The General Movements Assessment is commonly used to screen babies who were born extremely premature for early signs of cerebral palsy. While traditionally an assessment based on videos of a baby's movements within a clinical setting, my PhD looked at one of the first known methods that allows families to record their baby's movements from the comfort of their own home. My PhD found that families were able to use Baby Moves successfully, though there was less tendency to use the app if the family had a mother who was younger, no English was spoken at home, or if the family were receiving some level of government income. My PhD also looked into the finer aspects of the General Movements Assessment, and found that the window to film babies was better in the later part of a 12-17 week corrected-age window, and that babies who had brain injury tended to have poorer movements.
I am now fortunate to be able to look beyond the findings of my PhD to study the same cohort, but now with a more detailed assessment of baby's movements, called the Motor Optimality Score. The rate of cerebral palsy appears to be reducing in extremely premature babies, which is good news, though a significant proportion of these babies are still having difficulties with milder non-cerebral palsy movement and coordination problems. I hope that the findings of my post-doctoral research will determine if a detailed assessment of early infant movement can predict later milder movement/coordination problems.
I am also continuing to work with the team under the guidance of Professor Alicia Spittle on the Knowledge Translation of Early Cerebral Palsy study, which looks at implementing early diagnosis for high-risk cerebral palsy guidelines in a broader population of high-risk infants.
What area is your background in?
In physiotherapy. I started working with paediatric-specific populations in 2010 when I volunteered at a special school in Suva, Fiji. I then worked at a community therapy service for children with developmental delays and disability in Canberra before moving back to Melbourne in 2016 to commence my PhD with Prof Alicia Spittle, Prof Jeanie Cheong and Prof Lex Doyle.
What about this area of research interests you?
I think we can make so much valuable change in the earliest years, or even months of a baby's life and working with families as an extension of the baby's well-being is an honour.
What do you enjoy about being part of the CRE in Newborn Medicine?
I am surrounded by generous experts who always have an open door, who are keen to cultivate the next generation of researchers, and truly engage with the research interests of the families that we study.
What do you hope to do in the future?
To be a leader in the area of early detection, in particular the General Movements Assessment, and how it can be delivered in a family centred way with the latest technology available to our community.
Proudly in partnership with