Our researchers are now recruiting families with 3-4 month old babies for a new study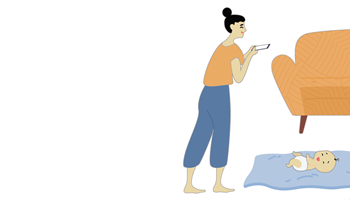 CRE Researchers are partnering with families to evaluate instructions on how to film their baby's movements for clinical assessment.
A baby's movements can provide important information about their future physical development when assessed by trained health professionals. As smartphone technology becomes more widespread, health professionals have been asking families to film their babies' movements at home for clinical assessments, but clear instructions for good video recordings are not always available for families.
This project is about testing two instructional guides for families to record their baby's movements at home. We want to ensure that families have instructions that are adequate to record videos suitable for healthcare providers.
We are inviting families living in Australia with babies who were born between April-August 2020, and will be 14-16 weeks old (approximately 3-4 months, from their due date of birth) after starting the study. Babies who have not been admitted to the Neonatal Intensive Care Unit or Special Care Nursery are eligible to participate in this study. Families will need a smartphone, camera or tablet with filming capacity, and should be able to read and write in English (either on their own or with assistance).
Families can take our recruitment survey https://redcap.link/babymovements or email babymovements@mcri.edu.au to express interest in participating in this study.
Proudly in partnership with