New Resources created by the CRE in Newborn Medicine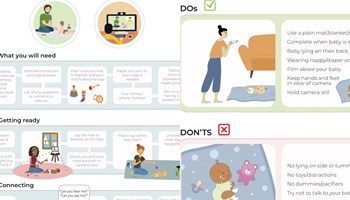 The change to the way of working in this time of Covid-19 has driven innovation in the CRE in New Medicine team. Chief Investigator Professor Alicia Spittle has been working with Knowledge Translation Fellow, Dr Abbey Eeles, to produce several resources that are getting positive feedback from clinicians and researchers all over the world. The resources are PDF handouts designed to assist families who can no longer attend their baby's developmental assessment appointments in person. The first handout is an infographic that gives clear, step by step instructions for setting up at home for a telehealth appointment. The second handout is an infographic clearly laying out for parents how they can film their baby's general movements at home using their mobile phone. The General Movements Assessment is an important tool to access a baby's neurodevelopment in the early stages of life. It is used to identify absent or abnormal general movements and has been shown to be highly predictive of cerebral palsy. Early detection can lead to potentially better outcomes with intervention therapies getting started earlier.
Both handouts provide a means by which parents and clinicians ensure a baby still receives the care they need while Covid-19 restrictions are in place. However, the handouts are also likely to be used beyond their initial intended purpose.
The response from clinicians in both Australia and around the globe is that these handouts are clear and engaging and desperately needed. There are plans by Alicia and her team to collaborate with other international groups to have the handouts translated into other languages to extend their reach and impact.
Both these resources can be downloaded on the For Families page of our website
Proudly in partnership with