Neonatologists come together for discussion of cool topics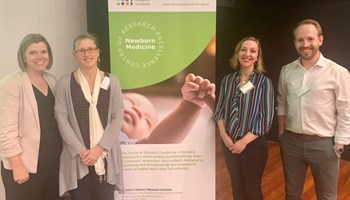 Last week saw the Royal Women's Hospital play host to some 300 health professionals from the all over the world for the 13th annual Cool Topics in Neonatology conference. Held at the University of Melbourne on Thursday 14 and Friday 15 November, Cool Topics brought together neonatologists, paediatricians, obstetricians, NICU nurses, psychologists, researchers and allied health professionals to discuss latest findings and insights with the aim to inform practices and improve outcomes in the field of neonatology.
The CRE in Newborn Medicine was well represented with CRE Chief Investigator Professor Peter Davis leading the event and many of our investigators responsible for chairing sessions. Chief Investigators Dr Louise Owen, Dr Brett Manley and Professor Alicia Spittle, and Associate Investigator Dr Karly Treyvaud were all speakers.
Dr Louise Owen gave a particularly thought-provoking talk which invited much discussion about parental consent for clinical trials in the delivery room and the NICU. Detailing recent survey results, Louise showed how parents feel about deferred (retrospective) consent and spoke about the ethical implications for this pathway in neonatal research. Dr Brett Manly followed and discussed the use of evidence in decision making for nasal high-flow vs CPAP for babies born preterm in non-tertiary special care nurseries.
Professor Alicia Spittle showed several different novel intervention trials that are underway in the CRE in Newborn Medicine to improve the participation of children born preterm and/or with motor impairments in physical activity at preschool and school age. Alicia noted that the implications for physical activity go way beyond just improvements in motor outcomes for children born preterm.
And finally, Dr Karli Treyvaud presented research about the short- and long term outcomes for parental mental health following preterm birth and detailed the kinds of intervention programs that may be the most effective in supporting parents with psychological distress.    
Professor Peter Davis in summing up the event thanked all attendees for their input, their questions and said that everyone would be left to think about how they can apply what they have heard in their daily practice. 
More information about Cool Topics can be found here:https://www.thewomens.org.au/health-professionals/clinical-education-training/conferences-seminars/cool-topics-in-neonatology
If you have any questions in regards to any of the research presented by the investigators in the CRE in Newborn Medicine, please email crenewmedicine@mcri.edu.au
Proudly in partnership with