Dame Kate Campbell Fellowship awarded to Kim Dalziel, Associate Investigator in the CRE in Newborn Medicine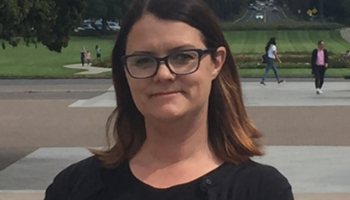 Health Economist and Associate Investigator in the CRE in Newborn Medicine, Associate Professor Kim Dalziel, was another academic in our team to be awarded the Dame Kate Campbell Fellowship, alongside Associate Professor Alicia Spittle. Kim is a Health Economist leading a program of research in child health in the Health Economics Unit in the Centre for Health Policy at The University of Melbourne. Her research has a strategic focus on the use of health economics to support clinical innovation, and for clinical research studies in neonatal medicine in the CRE in newborn medicine, Kim leads the economic evaluation.
Dame Kate Campbell was the first female to be appointed as an honorary pediatrician at the Royal Women's Hospital, Melbourne in 1924. With her research significantly contributing to improving the care of premature babies in the NICU, Kim identified with the fellowship's namesake immediately when reflecting on her award, saying "The Dame Kate Campbell Fellowship is a great honor and important validation of my work. I will use the fellowship to continue to build capacity in child health economics and to further methods work in long term outcomes and economic impacts of prematurity. Dame Kate Campbell is a great inspiration in her pioneering work in the area of neonatal medicine and her achievements in the face of discrimination. I hope to make great use of this fellowship in her name and the opportunity afforded me."
Everyone in the CRE in Newborn Medicine congratulates Kim on this outstanding recognition of her work.
Proudly in partnership with