Circus Activities as a Health Intervention for Children, Youth, and Adolescents: A Scoping Review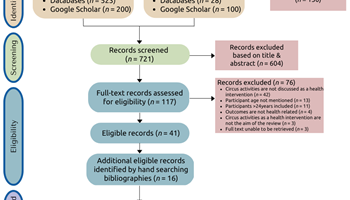 Circus activities are emerging as an engaging and unique health intervention. This scoping review summarises the evidence on this topic for children and young people aged up to 24 years to map (a) participant characteristics, (b) intervention characteristics, (c) health and wellbeing outcomes, and (d) to identify evidence gaps.
This review was written by our PhD student, Free Coulston. Have a read of the article
here.
Congrats on this well-written review, Free!
Proudly in partnership with