New Initiatives & Innovation from CRE Newborn showcased at RCH Grand Rounds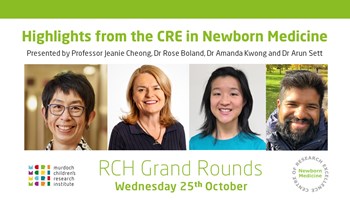 Now in its 13th year, the CRE in Newborn Medicine is supporting new initiatives to improve how newborn babies are cared for and highlights of this innovative work was presented recently as part of the Royal Children's Hospital Grand Rounds Seminar Series.
The RCH Grand Rounds is jointly sponsored by the University of Melbourne Department of Paediatrics, Murdoch Children's Research Institute and The Royal Children's Hospital and is the flagship educational meeting of The Royal Children's Hospital campus. It takes place each week, at lunchtime on Wednesdays. The meetings are informative and dynamic and broaden the understanding of child and adolescent health, regardless of whether the audience comes from a clinical, research or academic background.
There were 4 presentations from the team:
Professor Jeanie Cheong, our Director, Neonatologist at the Royal Women's Hospital, and Principal Research Fellow at Murdoch Children's Research Institute spoke about the latest findings from the Victorian Infant Collaborative Study about the long-term outcomes following preterm birth.
Dr Rosemarie Boland, Neonatal nurse researcher, Neonatal Educator in the Paediatric Infant Perinatal Emergency Retrieval (PIPER) service at RCH and chair of our mentoring subcommittee, gave an overview of NIC-Predict, a digital tool that Rose and team have developed to inform clinicians accurately about the expected outcomes of extremely preterm born infants.
Dr Amanda Kwong, a physiotherapist at the Royal Women's Hospital Newborn Follow-up Clinic and a post-doctoral research fellow in our team, Amanda explained how the need for early detection and intervention for infants at high risk of cerebral palsy and movement disorders is being met in part by the Baby Moves App that allows parents to capture general movements videos of their baby at home.
And finally,
Dr Arun Sett, neonatologist with PIPER and Joan Kirner Women's and Children's Hospital and PhD candidate with the University of Melbourne and our team and based at the Royal Women's Hospital. Arun's talk focused on the utility of lung ultrasound in neonatal respiratory support in the NICU, including to guide lung recruitment in mechanical ventilated preterm infants.
View a recording of the talks on the RCH website here.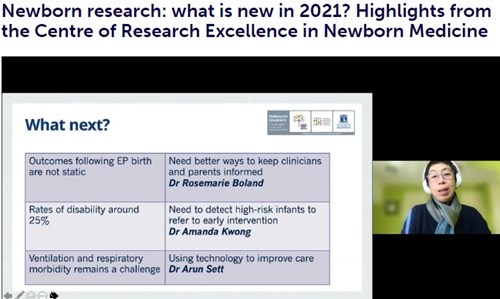 Proudly in partnership with