COVID-19 and Preterm Children. What is known?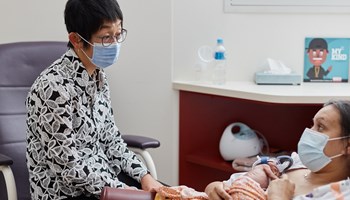 The CRE in Newborn Medicine have developed a short factsheet for parents of preterm children who may be concerned their child is at increased risk of COVID-19.
There are many parents of preterm children who are understandably concerned about their child's risk of getting COVID-19.  Research tells us that preterm children have higher rates of rehospitalisation in the first few years after going home from the nursery than those babies who are born at term. And one of the most common reasons for hospital readmission of preterm children is respiratory illnesses. If a child had Bronchopulmonary Dysplasia or BPD, they are at even higher risk for readmission, especially for respiratory illnesses. However, calculating their risk from COVID-19 is difficult.
Professor Lex Doyle, Chief Investigator for the CRE in Newborn Medicine explains, "It is not possible to calculate by how much, if anything, ex-prems are at an increased risk from COVID-19 infection. There are a few case reports of individuals who have been ex-prems, with or without BPD in the newborn period, who have ended up in hospital with COVID-19 infections.  These reports cannot be used to calculate risks because there is no way of knowing how many in the underlying population were ex-prems, with or without BPD. Given the caseload of COVID-19 around the world, it was inevitable a few in hospital would have been ex-prems."
In this case, what can parents do? "The most positive thing families with children who were ex-prems can do to prevent COVID-19 is to make sure everyone in the household who is eligible is fully vaccinated", says Professor Doyle.  
It is also important at this time that parents are seeking information from evidence based resources to guide their understanding of COVID-19 and their decision making for their child. The CRE in Newborn Medicine have developed a short factsheet to assist parents of preterm children with this. You can download it here. We hope this is of some benefit to parents at this time.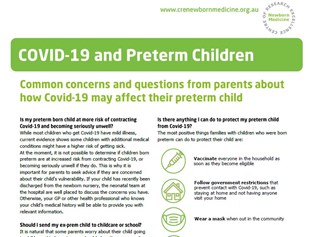 Additionally, experts from the Melbourne Children's Campus which includes the Royal Children Hospital (RCH) and Murdoch Children's Research Institute held a Facebook Live event recently that answered many questions sent in from parents in regards to COVID-19, the Delta strain and vaccination. You can view the recording of this event here. 
And finally, the hugely popular RCH Kids Health Info Podcast had a discussion with paediatrician and immunisation expert Dr Margie Danchin about Children and COVID-19 vaccines. You can listen this this here. 
Proudly in partnership with