Student Spotlight: Kate Cameron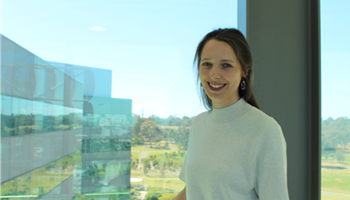 Having just presented her project at her PhD completion seminar, CRE in Newborn Medicine PhD Candidate, Kate Cameron is now busy writing up her thesis for submission before the end of the year. Kate's study has examined the differences in involvement of preschool age children in a range of activities between those born preterm and children born at term. Kate further explored whether dance was an effective intervention for children born extremely preterm participating in more physical activity at 3 years of age.
Kate kindly took a break from her writing to tell us a little bit about herself and her work.
What did you study and what is your PhD project?
I have spent quite a lot of time studying! I have a BA in English Literature and International Studies, a Master's degree in Physiotherapy, and am now completing a PhD.
My PhD project focuses on participation at preschool age for children who were born preterm. The first part of my project explores participation in community activities, such as physical activity classes or attending community events. Children in this study were 4-5 years old, and were either born very preterm (less than 30 weeks' gestation) or born on time. We asked parents in this study to complete a survey about their child's attendance and involvement in a range of activities. This is important to understand, as we don't know if there are differences in community participation between children born preterm and children born on time. The second part of my project looked at whether a dance intervention was an effective way of involving children born extremely preterm (less than 28 weeks) in physical activity at 3 years of age. Children in this study were matched with a dance school in their local community and attended classes for one school term. Dance teachers were provided with additional training, which included information about preterm birth. This was a feasibility study, so we were interested in if this type of program worked, and if it was acceptable to families and dance teachers.
Why does this area of research interest you?  
Physical activity participation is such an important part of our lives. For young children in particular, physical activity can help improve movement and social skills, it can help children stay fit and healthy, and is a great way of having fun. Because physical activity has so many benefits, it is vital that no one misses out, and that we understand the best way to promote physical activity for all children.     
What do you hope to do in the future?   
So many things! I am thoroughly enjoying my PhD, and would love the opportunity to continue to contribute to research aiming to improve outcomes for children born preterm and their families. In particular, it would be wonderful to have the opportunity to work with children and families to create new interventions aiming to improve participation in physical activity.
 What do you enjoy about being part of the CRE?
I enjoy being part of the CRE as it's brilliant to be part of a team of like-minded individuals all working to improve the lives of newborn infants and their families. The CRE is incredibly supportive of PhD students and has a wonderful culture of empowering and training early career researchers. Being part of the CRE has opened up some incredible opportunities for me, for which I am very grateful.  
Proudly in partnership with