CRE in Newborn Medicine responds to the telehealth needs of consumers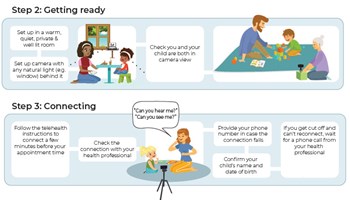 Telehealth has enabled Australians to continue to receive high quality health care during the COVID-19 pandemic, with the total number of telehealth consultations between March & June 2020 totaling over 17 million. The CRE in Newborn Medicine has teamed up with researchers at The University of Melbourne to develop resources that support families to access health care using telehealth. Having previously released a guide for families with infants, the team have now developed the Telehealth Appointment Guide for Families with Young Children.
CRE in Newborn Medicine Knowledge Translation Fellow, Dr Abbey Eeles, worked on the development of both guides and shared her experience. "The guides were developed with extensive consumer and health professional input. This has enabled us to create resources that better met the needs of those participating in telehealth and has ensured the instructions provided in the guides are easy for families to follow and apply. The uptake and use of the Infancy Guide has been terrific but we've also been listening to what our fellow health professionals need – many of them working with families beyond infancy and requiring a guide that demonstrates age appropriate activities and instructions. This new version is a great resource for health professionals working in the early childhood intervention and education sector and we hope it assists families and young children to receive the best possible health care via telehealth".
The telehealth handouts can be downloaded here:
The CRE in Newborn Medicine encourages everyone to share these guides with families and health professionals that may find them useful.
Proudly in partnership with