An exciting time to make a difference to the health of adults survivors of preterm birth, says Professor Jeanie Cheong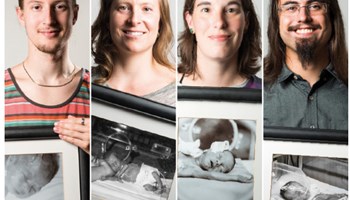 CRE in Newborn Medicine Director, Professor Jeanie Cheong and our former Director, Professor Lex Doyle were recently interviewed for a feature article in the medical journal Nature, discussing research into babies born extremely preterm and their long term outcomes. 
As a neonatal paediatrician with over 40 years experience, Lex recalled very few infants surviving if born extremely preterm (less than 25-28 weeks gestation) in the early 1970s. Advances over time in medical technology and the way in which these babies were treated at birth means their has been a significant increase in their survival rate. Adult survivors of extreme prematurity are now a larger population than ever before and researchers are now able to study the effects of having been born early.
As the leader of the Victorian Infant Collaborative Study (VICS) which has followed preterm birth survivors for four decades, Jeanie said "This is an exciting time for us to really make a difference to their health."
Proudly in partnership with