The Inaugural meeting of the CRE in Newborn Medicine Consumer Advisory Group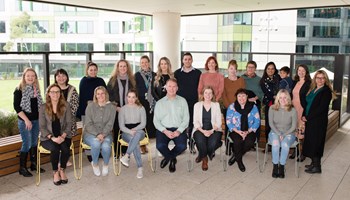 On Tuesday 16th July a group of 15 consumers came together with members of the CRE in Newborn Medicine's Policy and Practice Translation subcommittee to discuss the ways this group will collaborate with the CRE in Newborn Medicine to advise on the research and translation activities being undertaken by the team.
The Consumer Advisory group is made up of parents of newborns, young, adolescent and adult children born preterm or unwell, as well as those born preterm and/or unwell themselves. The first meeting was a huge success and it was lovely for consumers to have the opportunity to meet with members of CRE and each other and hear how their contribution will assist in ensuring that the work being done in the CRE in Newborn Medicine continues to be of the highest quality, is continually relevant and importantly, more likely to have impact.
Professor Rod Hunt, Co-chair of the Policy & Practice Translation Subcommittee said of the meeting, "the Consumer Advisory Group marked the beginning of an exciting new phase within the CRE in Newborn Medicine. Hearing the Consumer voice and responding with research of importance to patients and families is going to be critical to improving outcomes for high risk infants, and to the ongoing success of the CRE".
Maggie Lloyd, mother to 18 year old Jasmine, born at 27 weeks, both of whom attended the first Consumer Advisory Group meeting said "Over the years we have relied on research findings about prematurity to help and guide us through the issues we have faced. If my being on the consumer advisory panel can in any way help researchers and professionals by providing them with feedback on projects, and a more personal insight into anything related to having had a premature baby, then I'm honoured for the opportunity to help".
The group aims to meet at MCRI 3-4 times per year, with the next meeting to be held at the beginning of September, anyone interested in finding out more can email Renae at crenewbornmedicine@mcri.edu.au.
Proudly in partnership with